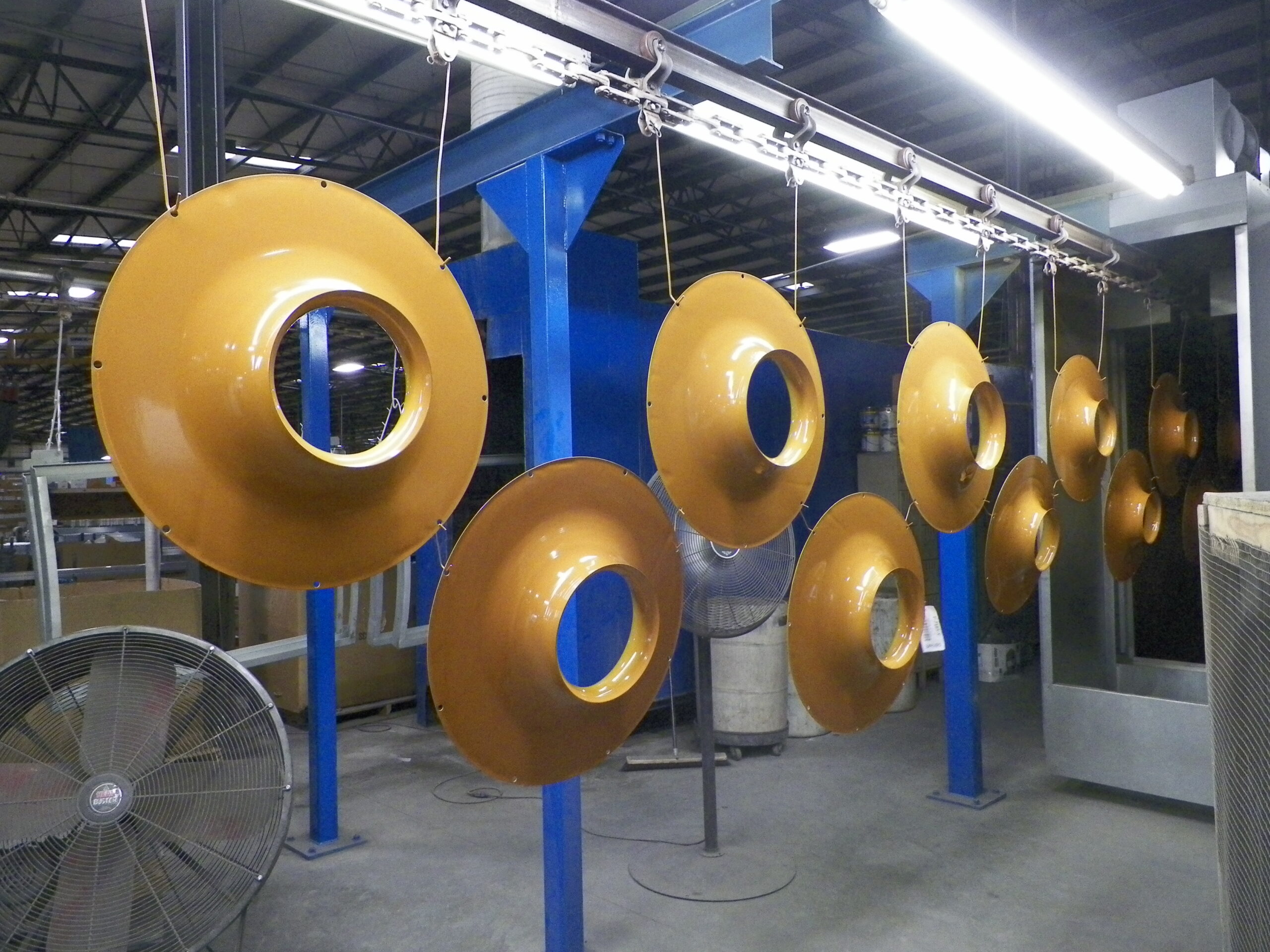 We provide a range of exceptional services to meet your needs. Our core strengths lie in our three innovative powder coating lines and our spacious oven, which can accommodate items up to 50 feet in length. Our automated and liquid coating line is unparalleled, delivering exceptional quality and quantity that sets us apart from our competitors. We also offer custom racking services to maximize the efficiency of our automated line. Our Salt Fog Chamber is equipped to test exposure to corrosion with the ASTM B117 standard, ensuring that your products are built to last. Moreover, we utilize multiple sand blasting techniques to guarantee a smooth and polished finish. If you require blasting or coating services, we offer the best and most cost-effective solution for your products.
Salt Fog Test Chamber in our Facility
Properly pretreated and powder coated parts offer resistance to corrosion. Your parts can be tested according to ASTM B117 standards in our large Salt Fog Test Chamber.
The ASTM B117 salt fog test is a standard test method used to evaluate the corrosion resistance of materials and coatings. The test involves exposing the coated part to a continuous salt fog in a controlled chamber for a specified period of time. The amount of time the part can withstand exposure to the salt fog before corrosion occurs is a measure of the corrosion resistance of the coating.
By testing your parts according to ASTM B117 standards in our salt fog test chamber, you can determine the corrosion resistance of your powder coating and use this information to develop finish warranties and maintain excellent quality control of your production process.
At our facility, we can pull parts from your production runs and test them at intervals determined by you. We can then provide you with test results via email, fax, or mail, giving you the information you need to make informed decisions about your powder coating process.
Knowing how many hours your parts can pass this extreme testing environment is a valuable tool in determining your finish warranties and maintaining superior quality control of both pretreatment and the powder coating applied.
Parts can be pulled from production runs and tested at intervals determined by you. Test results can then be emailed, faxed or mailed to you.
One of North America's Largest Batch Ovens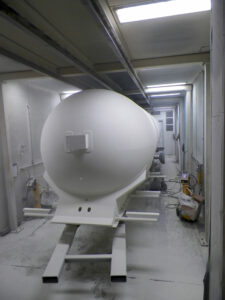 We can coat any object transportable by truck with ease. Our state-of-the-art batch oven can accommodate even the most intricate and large parts, weighing up to 12,000 lbs, via our three overhead I-Beam conveyors. For heavier parts, we use carts that can easily handle the load.
At other finishing lines, coating lengthy parts has often been a challenge, as overhead conveyors must incline and decline at various stages of the coating process. However, our line was specifically designed to overcome this challenge. Featuring an entirely one-level conveyor system with all structural support located on the inside, our line effortlessly accommodates long parts, without encountering any obstructive support structures on turns.
We take pride in offering our customers the highest-quality powder coating finishes, regardless of the size or shape of their parts.
Custom Racking for Efficiency
At our facility, we have in-house rack building experts who can design and fabricate custom racking systems to efficiently hold your parts. Whether your part is as small as 1/2″ square or as long as 40 feet, we have racks that can accommodate your needs. Our experts can even design racks for the heaviest parts, ensuring that they are securely held and ready for the finishing process.
We understand that every part is unique, which is why we offer custom solutions that are tailored to your specific requirements. Our racks are designed with precision and care to ensure that your parts are handled with the utmost efficiency and safety.
Trust our team to deliver high-quality racking systems that meet your needs and exceed your expectations.